Robert Aldous
What do you see when you look at a painting by the artist Bob Aldous?
Abstract, Landscape, Water, Sky, Space, Poetry; these are the usual responses.
There is a sense of balance revealed through the delicate translucent veils of ink, watercolour and acrylic, laid over a carefully prepared silk canvas or Arches paper. These paintings are absorbing and meditative and leave the viewer with feeling of peaceful wellbeing after the visual encounter. However this is not a shallow peace, the images have an intensity that stay with you.
Bob resides in West London and has his studio at ASC in Kingston. He was born in Leicester but moved to Banstead, Surrey, when he was four. He went on to Ravensbourne College to study Fine Art painting. In the early 1980's Ravensbourne was a college that valued experimentation and had a particular emphasis on encouraging abstract art. His most influential teachers at the time were Roger Ackling, the Conceptual Landscape Artist and the Performance Artist Gustav Metzger.
It was around 2010 that Bob first started to experiment with painting on Silk. Initially with silver and white paint on black dyed silk. The experimentations continued and as his painting technique developed, ivory Habotai silk replaced the black silk. He also experimented with dyeing and sizing techniques to control the natural spread of the ink pigment. He found that silk provided a receptive surface for the absorption of ink glazes as well as calligraphic mark making and impasto paint application. The abstract paintings ask the viewer to enter into this symbolic space. In the search for meaning we are encouraged to look inwards.
Bob Aldous is represented by Circle Contemporary in Cornwall, Cricket Fine Art in Chelsea , Amanda Aldous in Hampshire and Mcallister Thomas Gallery in Godalming Surrey.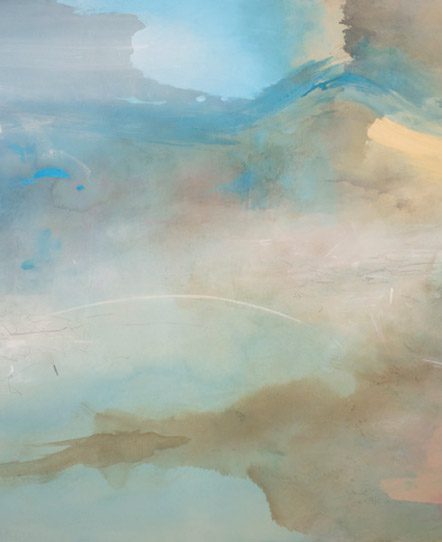 Artist Specialty
Painting