ASC opens new Canalside Gallery with inaugural exhibition in June 2023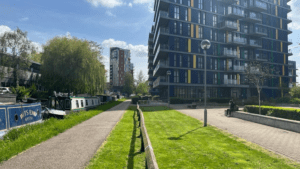 Artists' Studio Company (ASC) is excited to launch its newest project space, Canalside Gallery at the Ealing Road studios in Alperton in June 2023. 
Canalside Gallery is situated in one of three blocks that make up the Ealing Road site of permanent, purpose built, affordable creative workspaces, which are home to more than 40 artists, designers and makers. The gallery overlooks the Grand Union Canal. 
Canalside Gallery is a flexible project space which aims to benefit the artists and makers in the building and to support activities and projects that benefit their practice and professional development. Building on ASC's charitable mission to support and promote artists, the space will be free to use to exhibit works; hold events and presentations; host workshops and activities; and build connections with the local community and ASC partners.
The gallery opens with an exhibition by current ASC artist Warren Reilly from 12th to 17th June, who has been the recipient of a free studio for two years at Ealing Road. The exhibition marks the end of Warren's two years and highlights projects that he has completed during this time, including Union Ain't Jack and Modern Hallows. Visitors can book to attend the exhibition, which includes a private view on 15th June, 6-9pm, and a late viewing on 17th June, 7-9pm.
Following the exhibition, ASC will offer a one year free studio to a local artist/maker, due to begin in July-August 2023.