ASC's The Handbag Factory x The Bainbridge Open 2023
14 June, 6-9pm
15 – 24 June, Wednesday to Saturday, 2-6pm
The Handbag Factory, 3 Loughborough St, London SE11 5RB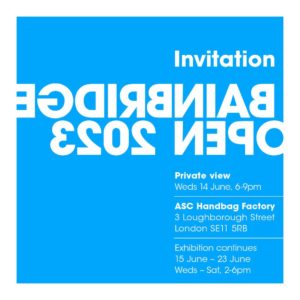 Artists Studio Company (ASC) is excited to be hosting 'The Bainbridge Open 2023' at our new gallery space and co-working project, 'The Handbag Factory'.
On the occasion of its 15th birthday, Bainbridge Print Studios has re-launched the Bainbridge Open 2023, an open submission competition for print based artists across the UK and abroad. 
The Bainbridge Open 2023 seeks to celebrate the breadth of contemporary print practices throughout the UK and abroad. The exhibition will showcase the work of print based artists and provide a platform for emerging and established practitioners to present their work to the public and invited guests. Selecting this year's shortlisted works for the exhibition are Eames Fine Art Gallery and artist and academic, Ian Chamberlain.
Join us for an opening night event on Wednesday 14th June from 6 – 9 pm to celebrate the launch of The Handbag Factory and enjoy the works of over 60 print artists selected for the exhibition.

The Handbag Factory:
The Handbag Factory is a unique addition to ASC's roster of creative workspace buildings with a focus on providing coworking and desk spaces for creative and not-for-profit arts organisations. Applications are now open to register interest in the space.
The building boasts a large event and gallery space which will be available for organisations and collectives to stage exhibitions, shows, and talks.
Keep an eye out for upcoming events throughout the Summer in the lead-up to the launch of co-working spaces in September/October 2023!